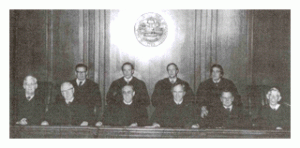 The Criminal Court of Davidson County, Tennessee, was created under Chapter 52 of the Twenty-Fourth General Assembly, State of Tennessee. From Acts of Tennessee, 1841 and 1842, the front piece reads:
"Acts Passed At The First Session Of The Twenty-Fourth General Assembly Of The State Of Tennessee Published By Authority Murfreesborough, D. Cameron & Co., Printers To The State-1842."
(Picture above is the Criminal Judges in 1975. Front row, left to right: Allen R. Cornelius, Jr., Shelton Luton, James W. Swiggart, Ben H. Cantrell, Joe Loser, Jr., John L. Draper. Back row, left to right: Raymond H. Leathers, Stephen North, J. William Rutherford, Hal D. Hardin)
This act has thirteen sections and was passed on January 27, 1842, and signed by Burchett Douglas, Speaker of the House of Representatives, and Sam Turney, Speaker of the Senate. The Circuit Court Judge acted as Criminal Court Judge until the year 1854, when a Criminal Court Judge was appointed.
The above Act was amended by Chapter 73, Acts of Tennessee, Extra Sessions of the General Assembly in 1920, so as to make two divisions of the Criminal Court.
Pursuant to an Act of the 1967 Legislature, Division III of the Criminal Court was created. Court convened on September 3, 1967.
Division IV of the Criminal Court was established in 1990. T.C.A. 16-2-505 and T.C.A. 16-2-506.
Division V and Division VI was established in 2003. T.C.A. 16-2-505 and T.C.A. 16-2-506.
Criminal Court Judges
W.B. Turner, 1854
Thomas N. Frazier, 1854
John Hugh Smith, 1867
A.L. DeMoss, 1870
Thomas N. Frazier, 1870
James Minor Quarles, 1878
Matt W. Allen, 1883
G.S. Ridley, 1886
J.M. Anderson, 1894
William M. Hart, 1900
A.B. Neil, 1909
Criminal Court Division I
J.D.B. Debow, 1917
Chester K. Hart, 1926
Raymond H. Leathers, 1958
Sterling Gray, 1982
Thomas Shriver, 1987
Steve Dozier, 1997
Criminal Court Division II
Frank M. Garrard, 1920
Chester W. Hart, 1922
Frank M. Garrard, 1926
Charles G. Blackard, 1928
Charles Gilbert, 1930
Homer B. Weimer, 1958
John L. Draper, 1960
Randall Wyatt, 1982
Angelita Blackshear Dalton, 2017*
Criminal Court Division III
Allen R. Cornelius, Jr., 1967
A.A. Birch, Jr., 1978
Ann Lacey Johns, 1987
Cheryl Blackburn, 1996
Criminal Court Div IV
Seth Norman, 1990
Jennifer Smith, 2018*
Criminal Court Div V
Monte Watkins, 2003
Khadija Babb, 2022*
Criminal Court Div VI
Mark J. Fishburn, 2003
Cynthia Chappell, 2022*
This information was retrieved from:
BENCH AND BAR II
2003
Author – David C. Rutherford
Publisher – The Nashville Bar Foundation
Editor – William T. Ramsey
* updated by Trial Court staff