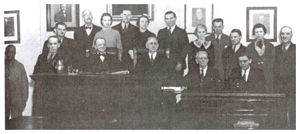 (This is a picture of Chancellors R.B.C. Howell, James B. Newman along with their staff. This picture also includes the Clerk and Master, Joseph R. West with his staff taken in 1935)
When counties were created in the Territory, now Tennessee, by the Legislature of North Carolina, they were at first made parts of adjoining judicial districts in that State; but, in 1784, the counties of Washington, Sullivan, Greene, and Davidson were constituted a separate judicial district and named the district of Washington. This district covered the whole of the territory now Tennessee, and the newly created Davidson County comprised most of what is now Middle Tennessee and covered an area of nearly twelve thousand square miles. In 1785, Davidson County was given a separate Court. The Courts thus established in this territory of Tennessee by North Carolina were, as they were across the mountains, vested with General Jurisdiction in Law and Equity.
In 1787, the two-fold Court of Law and Equity was divided and it was enacted that the Chancery branch should be styled the "Court of Equity", and a "Clerk and Master in Equity" was appointed for each Court of Equity. But both Courts continued to be held by the same Judge.
The first division of Davidson County came up in 1785 when Sumner County was created. In 1788, Tennessee County was set up. Tennessee County remained intact until 1796 when it was split into Robertson and Montgomery Counties.
The first Court of Davidson County was vested with broad powers and covered a wide range of subjects. The Court had jurisdiction over all legal, judicial, legislative, executive, military and prudential affairs of the County. The Court has evolved into our present County Court and then into the present form.
On the first Monday in November, 1788, a Superior Court of Law and Equity for Metro District, which comprised Davidson, Sumner and Tennessee Counties, met in Nashville for the first time. The Court had been set up by North Carolina and the Governor had appointed John McNairy, Esq., as Judge. On coming to the new area, Judge McNairy brought on Andrew Jackson with him. Mr. Jackson was admitted to the Bar and appointed attorney for the State on the Law side.
Late in 1789, North Carolina ceded to the United States its territory west of the mountains, which Congress organized into the Territory south of the Ohio River. President George Washington appointed William Blount as Governor of the Territory and Daniel Smith as Secretary. Davidson County then came under Territorial Government of the Metro District and remained as such until 1796 when the State of Tennessee came into existence.
In 1796, the old North Carolina system of Jurisprudence was incorporated into the Constitution of the new State of Tennessee and, thus, imbedded in its very foundations of its government. In 1809, the Superior Courts of Law and Equity were abolished and Circuit Courts were established in their stead, and vested with all of their powers and jurisdiction, both at Common Law and Equity. A Supreme Court of Errors and Appeals was created by the same statute, to be composed of two Supreme Judges and one of the Circuit Judges. By the Act of 1811 this Supreme Court was given "Exclusive Jurisdiction in All Equity Causes Arising in the Circuit Courts," and either party was given the right to take depositions. Previous to the Act, testimony in suits was generally oral.
In 1813, the Circuit Judges of the State were given concurrent jurisdiction with the Supreme Court in all Equity causes, and the Circuit Clerks were made Clerks and Masters in Equity. In 1817, it was provided that Equity causes wherein a Circuit Judge was incompetent might be adjourned to the Supreme Court, and there heard on the original papers, as though brought there originally.
In 1822, Equity Jurisdiction was taken away from the Circuit Court and given to the Supreme Court. In 1827, the laws giving Equity Jurisdiction to the Supreme Court were repealed, and two chancellors were appointed to hold such Courts, the State being laid off into two Chancery Divisions, the Eastern and the Western, with one chancellor for each. The Chancellors were declared to be Chancellors for the State and were given authority to interchange.
The Circuit Court and the Chancery Court, by the Constitution of 1834, became distinct and separate Courts and have so continued to the present. The Circuit Court of Davidson County, however, had an uninterrupted existence since 1810. The Chancery Court, as a separate entity, was not formed until 1846. Previous to 1846, the Chancery Court for this district was held in Franklin in Williamson County, Tennessee, and in that year a Chancery Court was established at Nashville for Davidson County. In 1870, this jurisdiction was reduced to Davidson and Rutherford Counties, and in 1891 to Davidson County alone.
Chancellors
Terry H. Cahal,1846
B.L. Ridley,1851
A.O.P. Nicholson,1851
John S. Brien,1851
Samuel D. Frierson,1853
J.C. Guild,Elected in 1860; did not serve on account of war
David Campbell,1866
Horace H. Harrison,1867
J.O. Shackleford,1868
E. A. Otis,1868
Edward H. East,1869
William F. Cooper,1872
Alfred G. Merritt,1878
Andrew Allison,1886
Thomas Malone,1894
Henry H. Cook,1896
*John Allison,1902
Part I
John T. Lellyett, 1918
John R. Aust, 1921
R.B.C. Howell, 1928
Thomas A. Shriver, 1940
Thomas Wardlaw Steele, 1955
Ned Lentz, 1957
Ben H. Cantrell, 1973
Irvin Kilcrease, 1980
Claudia Bonnyman, 2003
Patricia Head Moskal, 2019***
Part II
James B. Newman, 1915
William J. Wade, 1941
Alfred T. Adams, 1957
Frank F. Drowata, III, 1970
Ed R. Davies, 1974
C. Allen High, 1974
Ellen Hobbs Lyle, 1995
Carol L. McCoy, 1996
Bill Young, 2016
Anne C. Martin, 2018***
Part III
**Robert Brandt, 1976
Ellen Hobbs Lyle, 1996
I'Ashea Myles, 2022***
Part IV
Richard Dinkins, 2003
Russell Perkins, 2008***
* In 1915 during the latter part of Chancellor John Allison's term, the Legislature created Part II of the Chancery Court; therefore, Part I came into being at that time.
** By Act of the Legislature dated March 18, 1976, and approved March 19, 1976, Part III of the Chancery Court was created. The Honorable Robert Brandt was appointed Chancellor thereof by the Governor, and in August, 1978 was elected for a full term.
*** updated by Trial Court staff
This information was retrieved from:
BENCH AND BAR II
2003
Author – David C. Rutherford
Publisher – The Nashville Bar Foundation
Editor – William T. Ramsey